Introduction
95% of restaurant owners agree that a POS system improves their business efficiency. Running a food business is a difficult task as food items perish in a short time. As a result, it must be sold on the same day, whereas a retailer can sell his product on the following day.
Hence, running a restaurant business is more risky than retail business. It takes time to see results, and you must invest a lot of time, money, and effort to make it profitable.
A restaurant's success depends on the contributions of various sections. It includes management, kitchen, billing, menu, dining, delivery staff, and bartenders. Restaurant billing plays an important role in the smooth functioning of your business.
In this article, we'll show you how DinO can help you to modernize your restaurant billing operations.
It lets you separate your dine-in, takeout, and delivery orders. Also, you can create bills and view your transaction history with the click of a button!
DinO Features That Make Restaurant Billing Easier
Table Management
A large restaurant has more tables than a small or medium one. As a result, it could be a time-consuming process for managers and owners to track the status of each table in a relatively large restaurant.
DinO allows you to easily track the status of each table in your restaurant.
The status of the table is divided into five stages. They are listed below.
Available
Reserved
Occupied
Running
Payment
After each stage, the status in the dashboard will change instantly. Once the payment is received, the status will be reset to "available."
It also allows you to manage your dine-in, takeaway, and delivery orders. In addition, you can add, enable, or disable a table or group and customize each table's seating capacity.
Recommended: How to do Table Management in your Restaurant.
Transactions History
DinO makes it simple to view the history of all transactions made at your restaurant. You can even sort it by payment due, completed, or canceled transactions.
Aside from that, you can view a detailed summary of each transaction and see what, when, and how much your customers ordered.
Credit Control
Dino enables you to set and control the credit limit of your customers. You can keep track of your regular customers' total purchases, deposits, and balance amounts without any restrictions.
To view a detailed credit summary of a customer, simply click on a specific row. It will display a brief summary of your customer's credit and the date and time.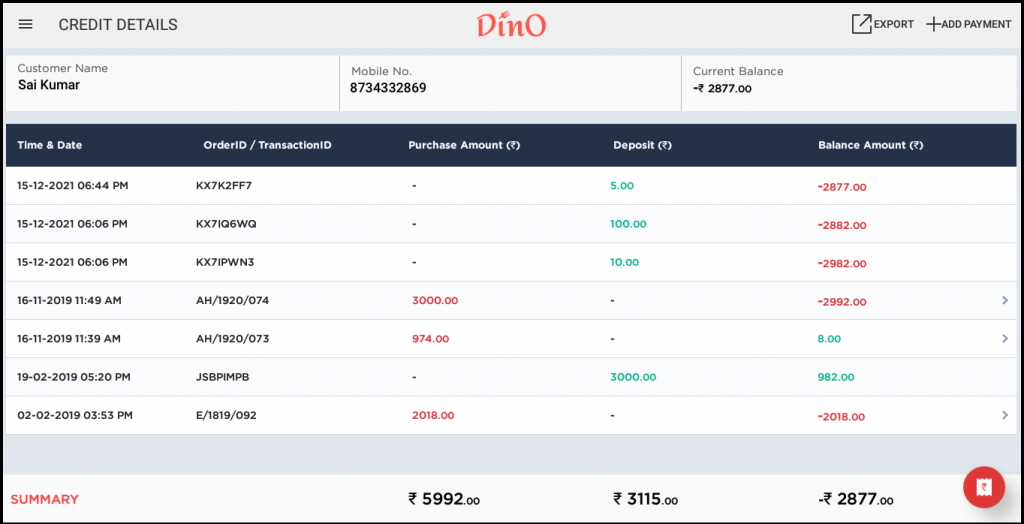 Similarly, if you click on a specific credit row, it shows when, what, and how much was purchased or deposited by your customer.
This allows you to keep track of your customers' actions and frequently purchased items. Meanwhile, you can run offers on the foods they eat the most.
Petty Cashbook
There's no need to keep a separate petty cash book for minor expenses. DinO makes it easy to add, manage, and track your restaurant's petty expenses.
You can include all of your restaurant's minor expenses, such as stationery, postage, and so on.
Settlements
DinO allows you to see the current status of your employee shifts as well as the total sales made during that shift.
This empowers you to recognize and incentivize top performing employees.
Key Takeaways
Hence, compared to traditional billing methods, dino helps you to speed up your restaurant billing process. It enables you to manage your bills, tables, groups & billing history, etc.
You can set up your customer accounts, create a database, and even run targeted marketing campaigns to boost sales. It saves you time and effort and allows you to focus on growing your restaurant business.
For any questions or queries, let me know in the comments.
Please subscribe to our blog to get the latest updates and notifications in your inbox.